BACK
Orthodontics in Omaha, NE
Achieve Straighter Teeth and Better Dental Health
Orthodontics is a branch of dentistry that focuses on moving teeth into their proper positions. When you have straight teeth and a healthy bite, it's easier to eat, speak, and maintain good oral hygiene. At Braces Omaha, our board-certified orthodontist, Dr. Stevens, offers many orthodontic treatments to address a range of dental and facial conditions. After orthodontic treatment, patients of all ages feel a great sense of accomplishment and a boost in self-esteem knowing they have a healthier, straighter smile. Contact our office today for a free consultation and we will explore your orthodontic treatment options together. 
What Can Orthodontic Treatment Help With?
Some people naturally have aligned teeth and do not require orthodontic care. Many people, however, can benefit from some type of orthodontic treatment. It's also important to note the difference between a dentist and an orthodontist. While a general dentist focuses on the health of the teeth, gums, and facial nerves, an orthodontist focuses on correcting bite issues and straightening teeth. 
Orthodontics is an excellent way to manage conditions such as: 
Gaps between teeth
Crooked teeth
Misaligned jaws 
Difficulty eating or speaking 
Bite problems
Undergoing orthodontic treatment also contributes to the long-term health of your teeth, gums, and jaw joints. For children, teenagers, and adults, orthodontics can make a lifelong positive impact!
Meet Our Orthodontist
Dr. Clarke Stevens has brought exceptional orthodontic care to patients in the Omaha area for many years. He is board-certified by the American Board of Orthodontists, has served as an Assistant Professor of Orthodontics at the University of Nebraska for 12 years, and is the proud creator of WildSmiles Braces®.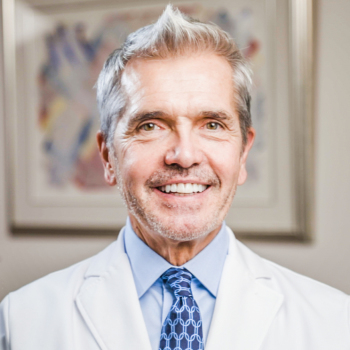 Clarke Stevens, DDS, MS
How Orthodontics Works
Orthodontic treatment works by applying gentle, controlled force on the teeth to move them. Treatment may involve the use of orthodontic devices, such as braces or clear aligners, or can involve a combination of orthodontics and oral surgery.
When continuous pressure is put on the teeth, the bone tissue surrounding them breaks down and rebuilds. This allows them to move into their new positions. Once treatment is over, you will likely wear a retainer to hold your teeth in their new positions as the bone finishes rebuilding itself. Then, your beautifully straight smile is here to stay!
What Is the Process to Start Treatment?
To begin your journey to straighter teeth, you will first need to visit an orthodontist. During your consultation at Braces Omaha, we will talk about the issues you're concerned with and the goals you have for your smile. We will take 3D scans of your teeth and face during this visit to get a better idea of your anatomical structures. Dr. Stevens uses these images to create your individualized treatment plan.
The type of appliance you wear and for how long will depend on your needs. After we go over all of your treatment options and select the right one for your goals and budget, the Braces Omaha team will provide you with an outline of what to expect throughout treatment. This includes a cost estimate and outlining your payment or financing options. If you have questions, we have answers! We encourage you to write down your questions beforehand so we can be sure to address them all during the consultation.
What Is the Duration of Treatment?
The length of treatment for you or your child depends on how complex the issue is. Patients with minor misalignment can complete Invisalign® treatment in as little as 6 months, while other patients may wear braces for several years. You can keep treatment on track by keeping oral appliances clean, wearing a mouth guard, and following instructions from your orthodontist. Broken or lost appliances and dental injuries will delay the total treatment time.
The Right Age to Start Orthodontic Treatment
Children should see an orthodontist at the first sign of an orthodontic problem, but no later than age 7. Around this age, a child has a mixture of baby and adult teeth, which gives your orthodontist powerful insight about how the permanent teeth are developing and if any baby teeth are causing concern. When you bring your child to Braces Omaha, we will identify current issues and a timeline of when your child will need to start treatment.
Early treatment creates a healthier environment for permanent teeth to grow and can help with facial development. Although orthodontic treatment starts during childhood for many, patients of any age can receive orthodontic care. There are many adults who wear braces, clear aligners, and more at Braces Omaha! Learn more about orthodontics for children or orthodontics for adults.
Where Can I Find An Orthodontist in Omaha, NE?
Braces Omaha is conveniently located on the west side of Omaha, Nebraska. If you live anywhere in the Omaha area or surrounding cities such as Fremont, NE, La Vista, NE, Papillion, NE, Bellevue, NE, or Council Bluffs, IA, we invite you to contact our office. A friendly member of our team can schedule a free consultation with you and Dr. Stevens to talk about your goals and how we can help!
Frequently Asked Questions: Orthodontics
Is orthodontics covered by health insurance?
Health insurance plans vary. Some plans may cover routine dental checkups and some dental procedures, including orthodontic treatment, while others do not. Typically, most health insurance plans that provide dental coverage will cover some portion of braces. You should contact your insurance provider directly to find out the details of your coverage and how much you will be expected to pay out-of-pocket. 
Does Medicaid cover orthodontics?
Some Medicaid programs cover dental care and orthodontic treatment if they are deemed medically necessary. For braces, the state you live in and your age will determine if Medicaid covers treatment. Medicaid does not cover Invisalign for teens or adults. 
How do I know if my orthodontist is good?
When researching orthodontists, it's important to find an orthodontic specialist who is highly skilled, knowledgeable, and someone you and your family feel comfortable around. Look into the provider's educational background and patient reviews on their website. 
If an orthodontist is board-certified, this means that he or she is committed to the highest level of care possible. Only about one third of orthodontists in the United States achieve certification status, so when you visit one of these specialists, you can feel confident that you are being cared for by an expert in the orthodontic field. Dr. Clarke Stevens at Braces Omaha is a board-certified orthodontist.  
How many orthodontic consultations should I get?
You can choose to receive a second opinion from another orthodontist or pursue your first choice and begin treatment. If you click with an orthodontist during a consultation appointment, have all of your questions answered, and feel confident that they have your best interests at heart, it may be a wise choice to pursue treatment at their office. If you'd like to schedule a free consultation at Braces Omaha, contact our office today.
A Happier Smile Starts Here
We're a family-friendly practice that provides optimal orthodontic care in a comfortable, approachable setting. To learn more about your treatment options for yourself or your child, we encourage you to contact Braces Omaha to schedule a complimentary consultation.